Space To Learn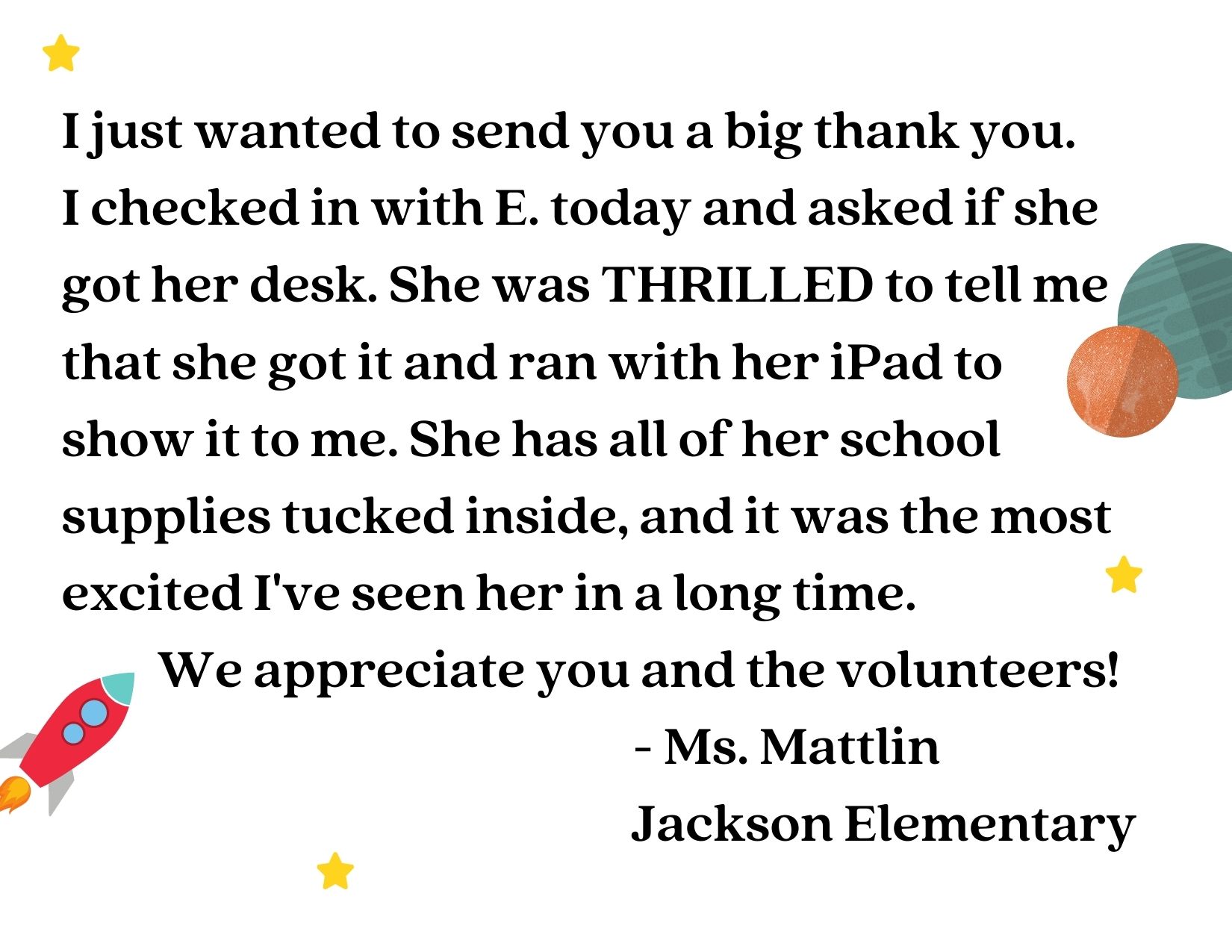 Inspired by individuals that have been building desks for students during the time of covid, our community has embarked on a mission to provide 500+ desks for local K-6 students. Minnesota Tool Library Members and community volunteers are invited to Make A Desk and Make A Difference!


We're wrapping up our project this month, but you can still help!

Donate to help cover additional project costs incurred and ensure MTL can continue to donate their time and resources to build a more resilient and equitable community through this project and others in the future.

The need for desks is far greater than our intial project funding and even greater than the build goals our team surpassed! We know many more children can use a Space To Learn. Sign-Up as part of our local build team to expand our reach and donate desks directly to your community. We'll happily provide the build specs, consumables as available, and even extend limited lending privileges for those who wish to help, but may lack a tool or two to get the job done.

Come into our shop to learn basic carpentry skills and lend a hand to finish building our final round of desks. Book Your Build at our NEMTL Branch today! No experience necessary - we'll have a shop mentor available and tasks for all ages and abilities.
.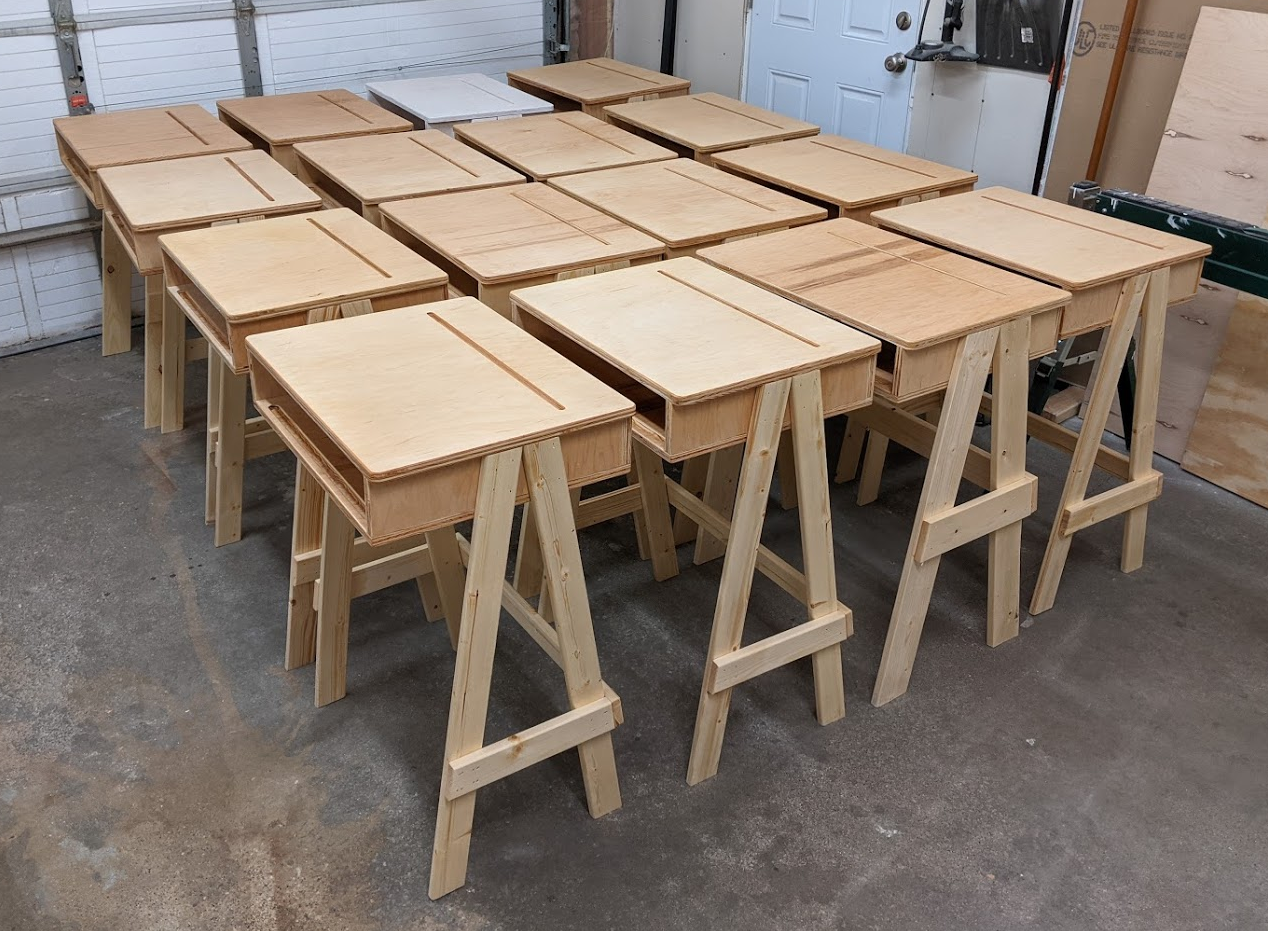 "Part of MTL's mission is to empower residents with access to tools, training, and workspace. When it comes to distance-learning, there are a lot of variables, but we know that a desk makes a difference. As a community, we couldn't be more excited to put our resources and skills to use on this project and provide our kids and our community a Space to Learn."
- Kate Hersey, Executive Director
From Our Library to Your Living Room!
Families with children enrolled in SPPS distance-learning are invited to pick-up a desk for their student at our St. Paul Branch during posted hours.

Desks will be provided on a first-come, first-serve basis.
We are NOT taking reservations.
Limit 1 per household.
Each desk will come with a postcard that your family can send back to MTL with a note or drawing. Please keep an eye out for it and participate - sharing stories is part of what makes projects like this possible. Beyond that, if you'd like to pay it forward and support the project, you can make a small donation online.
Our address is 755 Prior Ave North, St. Paul, MN 55104.
The next distribution is Friday 1/22 starting at 4:30PM.
Based on interest we expect to run out fairly quickly. We encourage families with the means to consider building their own (see below), and organizations to inquire about scheduling private build workshops for their clients.

When you arrive, please follow the detailed directions below for pick-up.
If you get lost, please call the SPTL cell #651-383-7082.
*Our branches are only staffed during posted open hours - if you call us during the weekday, it's unlikely anyone will pick up. Due to a high volume of calls during open hours, please be patient - it may take a moment to get through. We have a but a single line.

Pick-Up Directions: The underground parking entrance is in the Blue Dot Lot, just past Blackstack Brewery, and slightly to the right. Look for the Green Electronic X and parking sensor. Our staff will need to manually open the door for you. Please do not block the entrance and let any vehicles exit the ramp when the door opens before you enter. When you come down the ramp, you'll turn directly to your left, please proceed through the parking arm and pull in/around as directed by the Tool Library representatives. We'll bring the desk to you, load it, and add you to our list. Once you've been loaded, please pull out, circle around the pillars, and exit the same ramp you initially came down.

We currently have roughly 40 desks remaining.
If you'd like to try your hand at building your own for personal use, please email us and we'll send along the directions!
If you'd like to build for others, please sign-up above.

For more info. about a Space to Learn or to get involved, please contact us at programming@mntoollibrary.org