MAKE IT by May 20th, 2033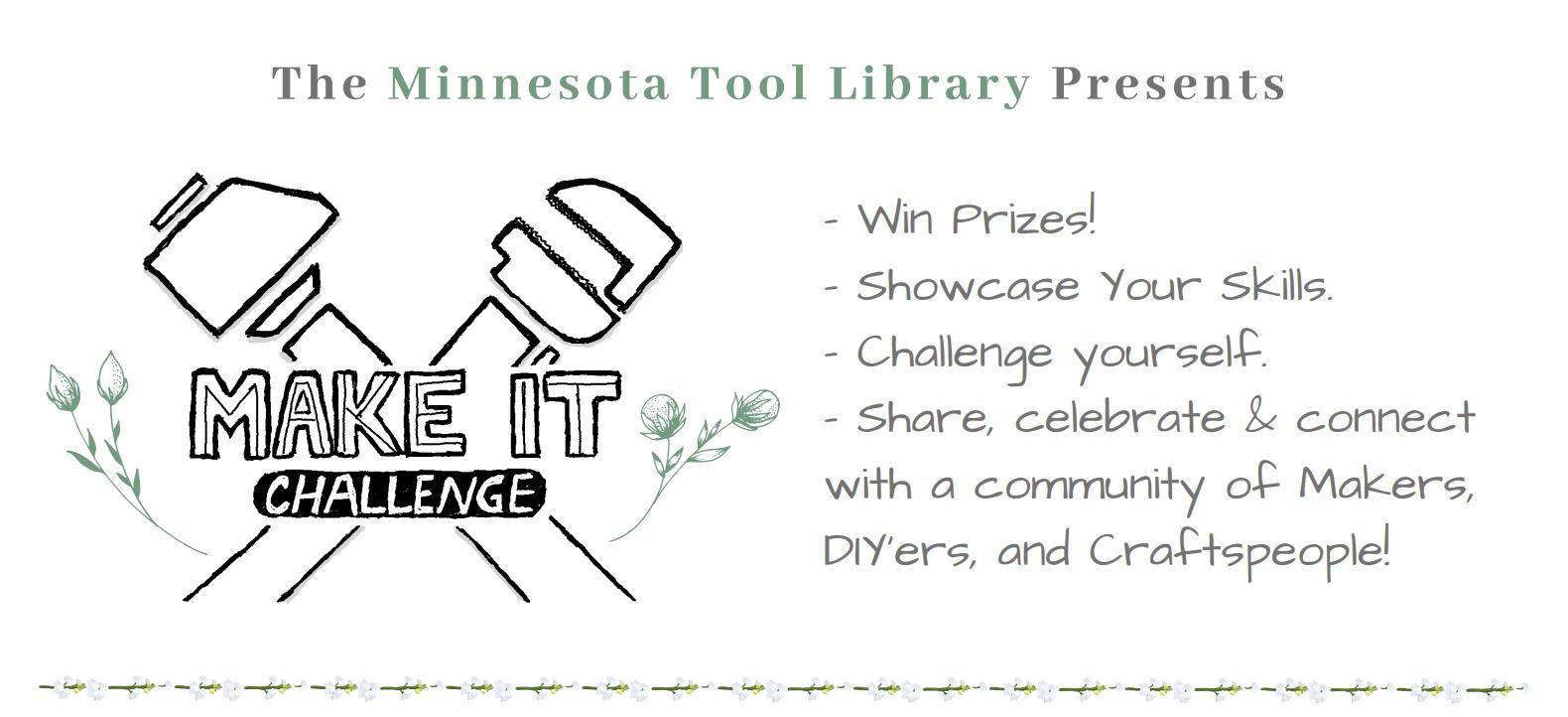 2023 CHALLENGE
This year's challenge theme is to USE LESS/SHARE MORE.
We're going green and challenging you to MAKE IT sustainably. Participants are encouraged to craft an item that meets the challenge theme by design (using reclaimed or repurposed materials for their build) and/or function (making an item that encourages reuse or sharing within one's home or community). What you make is entirely up to you!
Pre-Register as a challenger for early access to special discounts from our sponsors!
The submission form is now live. Enter your Maker Profile, Project Details and Build Story.

CHALLENGE FORMAT
Our challenge is FREE and open to the public. The design & build window begins in March* and participants will have until Mid-May to make their unique pieces and submit their build story and photos and/or videos of their entries; which will be featured on MTL's Social Media. Entries will also be on exhibit at the Thorp Building during Art-A-Whirl (Saturday, May 20th). The challenge concludes with a maker social and awards showcase (4-6 PM).
Submissions must be custom built (or if upcycling - must showcase significant design alterations, beyond aesthetic upgrades).
Overall winners will be determined by a panel of judges made up of woodworkers, community leaders, and tool library members based on creativity, use of trade skills/techniques, and incorporation of the challenge theme. In addition, a special audience choice prize will be awarded at the live showcase based on exhibition votes.
NUTS & BOLTS
Entries may be crafted by an individual or team, and we welcome all makers. Youth & Adult from Novice DIY'ers to Master Craftspeople. We want everyone to be able to participate and find inspiration within their peer group.

To be eligible for prizes, participants must have a representative present at the showcase.

Entries must be the original work of those submitting the piece; or in the case of an upcycle, demonstrate significant alteration and include a before/after picture and detailed description of alterations made.

Makers associated with our event Sponsors, MTL Members, Staff and Board of Directors, and all other local craftspeople and DIY'ers are welcome to participate and eligible for prizes. Being an awesome maker and working with an awesome organization is not a conflict : )

Multiple entries are welcome.

MAKE IT is a mixed-media friendly challenge. While most entries will feature woodworking, we welcome submissions in any skilled trade or craft.

Items entered remain the sole property of the maker, but by entering the challenge, participants grant the Minnesota Tool Library rights to share submissions without further limitation, restriction, compensation, notice, review, or approval in perpetuity. This includes any images, video, and/or written content regarding the piece, maker identification, and the build story.

Entries do not have to be created uniquely for the MAKE IT Challenge. It's our goal to share projects that our collaborative has recently undertaken and those inspired by the challenge.

*

Items made within a 6 month period of the active build window are welcome.

Submissions are expected to be on display during the live showcase on May 20th, 2023 from 10AM-6PM, with the exception of built-in items and pieces larger than 4'x6'. It is the responsibility of the entrant to transport pieces to and from the showcase. The Minnesota Tool Library, its representatives, sucessors, and assigns nor its event partners,are responsible for any damage to, or loss of, pieces on display. Insurance coverage (as desired) for pieces on display is the responsibility of the entrant.

We welcome pieces entered in other exhibits/challenges, and competitions as allowable. Pieces entered in a previous MTL MAKE IT challenge are not eligible for prizes, but may be included in the exhibit.

Contestants represent and warrant that the Entry they submit does not infringe any other person's or entity's rights.

Prizes will be awarded to the representative present at the showcase and/or primary maker listed on the submission. In the case of team entries, it is the sole responsibility of that individual to distribute/allocate prizes amongst any team members.

The Challenge is FREE and Open to the general public. No purchase necessary to win.
THANKS to our SPONSORS:





Logan Park Neighborhood Association ♦ Better Futures Minnesota ♦ Titebond ♦ Kreg ♦ Costco